Kyle Meyer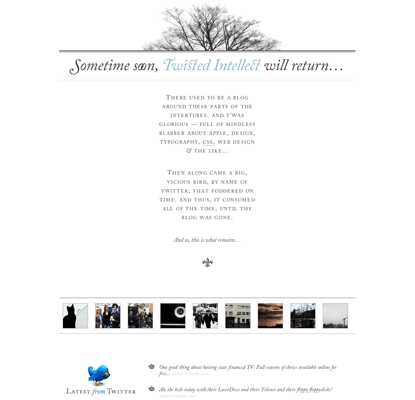 Quite some time ago, I was introduced to Twisted Intellect by the blogroll of a friend's site. Typical. Unfortunately, while the site boasted some excellent design elements, and one of the best implementations of columnar design on the internet, it suddenly vanished one day a few months ago; replaced one of the dreaded 'will return soon' messages. Meh.
But, as it so happens, I was clearing bookmarks earlier this week and happened to check back in on Twisted Intellect, and lo and behold there was something there. Still a coming soon of sorts, but a damn fine one.
tasteful ligatures


Ligatures seem to be a lost child on the web, and in most modern design in general. However, the chosen ligatures in the title text add an immediate air of proper design and professionalism. I love the dropped 'S' as well.
beautiful, degradable, type choices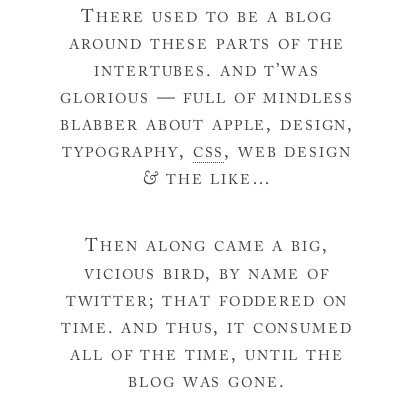 If you have the proper fonts installed, you can see everything in its Caslon beauty. Failing that, you can still see it in extravagant Hoefler Text. If you're lacking both of these wonderful fonts (and shame on you), everything is still available in your typical websafe flair of Georgia or Times.
variant goodness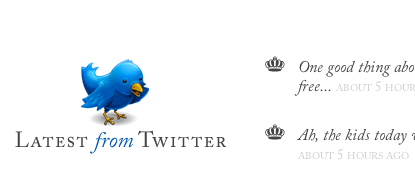 Something that immediately stands out is John's liberal use of small-caps and oblique typesettings. Combined with the aforementioned typefaces, this creates a very unique look that instantly separates the design from others and makes it memorable. The Twitter section is lovely, the tasteful iconography that adorns the site is both fitting and subtle.
the criticism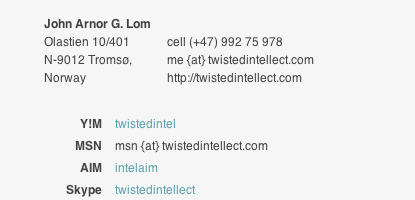 The contact section. All of it. It's so out of place with the typographical feeling of the rest of the site, it's the only sans-serif section, and it sticks out like a sore thumb. While the content is more digestible as sans-serifs, some treatment to tie it into the rest of the design is not out of the question.
conclusion
While this is only a glorified 'coming soon' page, made up of an explanation, flickr and twitter feeds, and a bit of contact info, it has definitely done the job of whetting my appetite for the return of his blog in the near future. With a bit of touch up work on the contact section, this could be even better.

How do you folks feel?

Want more? Check out the archives for previous reviews, and don't forget to subscribe for future reviews, posted weekly.

04.06.2008 //