Matt McInerney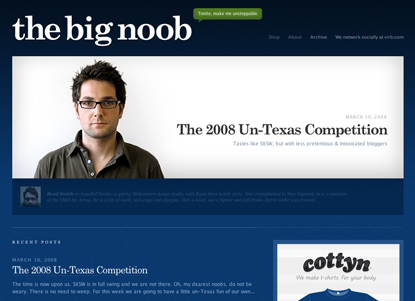 The Big Noob has been a favorite of mine ever since Ryan, Brad, and Keegan shared a workspace at Neubix and became known as the studio that gave Purevolume its look. The noobs seemed to hit a rough spot earlier in 2007 when the crew split up between VIRB and Firewheel Design, however on May 11th, 2007, The Big Noob returned with a bang.
new paintjob

The same familiar faces and blue/green color scheme held strong, but everything got a fresh coat of paint. The new logotype, now set in Century Schoolbook, made the serif seem cool again. And after so much round candy coated sans-serifs that have choked the web in recent years, I can appreciate the change of pace. Not to say the design hasn't taken a que or two from Web 2.0 though. A green quote bubble filled with random humorous musings adds a bit of flair to the header.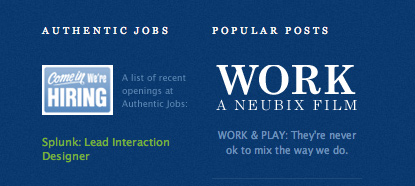 The site does a great job when it comes to attacking visual hierarchy. Your eye should have no problem figuring out where the "important" content lives. From the portrait photo on a white backdrop at the top, to the large type driven popular posts in the far right column, you'll know where to begin.
the important stuff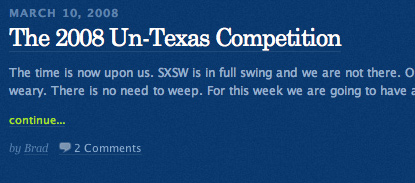 As we reach the actual content, we're presented with headlines set in Century Schoolbook, and body copy set in Lucida Grande. Light on dark can often times be a tall order, but the noobs have done a nice job handling legibility with a friendly contrast that doesn't hurt the eye and sufficient leading for your reading pleasure. And a bright green link with light blue border-bottom won't have you guessing where to click.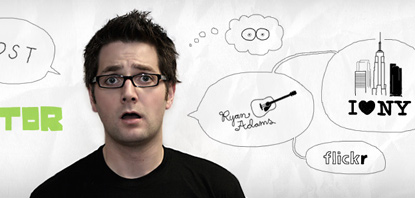 As you dig a bit deeper, you'll notice that the details have not been ignored. Look for some nice hand drawn style on individual "solider" pages (did you know that Brad enjoys Ryan Adams?), and the tiny uppercase subheaders set in Georgia. The subheadings do however make up my one complaint. Because of the small size and the higher contrast on the subheadings, they quickly become a strain on the eye. Perhaps just a subtle shift from #fff to #eee?
in conclusion
Overall though, finding design flaws in the site is extremely difficult. And no one can fault the noobs for a lack of personality. Clever quips and witty body copy greet you around every corner. If you have resisted becoming a noob thus far, I'd say it's time to take a dive and dig the style of The Big Noob.

Want more? Check out the archives for previous reviews, and don't forget to subscribe for future reviews, posted weekly.

03.16.2008 //