Kyle Meyer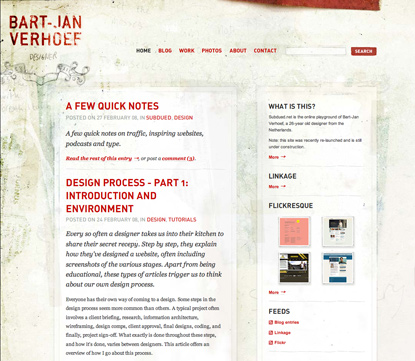 Subdued was always an oldie, but a goodie, in its previous incarnation. Unfortunately things suddenly went silent for quite sometime. Now Bart-Jan Verhoef is back with a complete redesign, and my gosh it has sIFR'd FF DIN!
The site features his blog, portfolio, photos and more, a typical breadth of subject matter for a personal site these days. Unfortunately, the portfolio second is a bit empty at the moment, and I'm not a fan of thumbnails, but there's no denying the site has a rich quality that's hard to find in most grunge based designs.
a tale of sans and serifs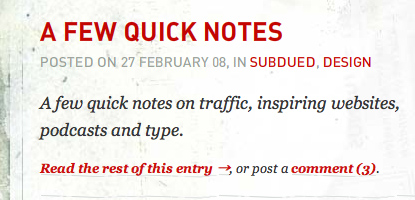 The combination of DIN and Georgia is surprisingly nice, and provides great contrast between headlines and body copy. Speaking of contrast, the powerful red with the off-white created by the textured background is excellent as well.
However, I think if the red was pulled more towards the crimson in the logo, it could eliminate the buzzing effect of the large red areas, such as headlines. The headlines also lack a hover state, which seems minimal, but made me second guess whether I could click on a headline or if I had to click "permalink".
nice links

There is some nice detail work to gather inspiration from. I love the custom underlines on all the content links, it really adds character and maintains the feel of the site, whereas normal horizontal rules would've seemed out of place. The technique is quite simple, but doesn't seem to get used enough.
the grunge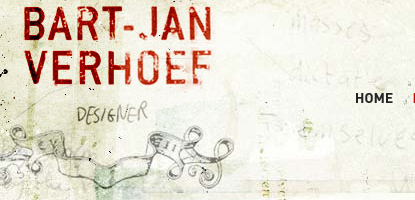 One of my favorite things about the site are the grunge textures in the background that also form the borders that wrap the columns. They are powerful without being overwhelming and manage to leave plenty of legibility for the body copy. I really dig the grungy illustration and effects on the logo type as well.

The scratched in type in the footer is a very characterful, but I wish it was still sIFR text or placed by some other more usable method. There's more text in the imagery that doesn't necessarily have contain any important information, but it's an interesting use of typography as a texture.
criticism
One issue that does irk me though, is on shorter pages. If the page isn't tall enough, the background image in the footer overlaps the one in the header and creates a rather hard line where the images aren't blending. While it wouldn't be friendly to image size, if the two images were faded into transparency, this issue could be avoided.

I'm not sure how I feel about the introduction of a third font (Arial) in the sidebar, as it adds another layer of texture, but then again, it is a grunged up site isn't it? What do you good folks think?

Want more? Check out the archives for previous reviews, and don't forget to subscribe for future reviews, posted weekly.

03.02.2008 //