Kyle Meyer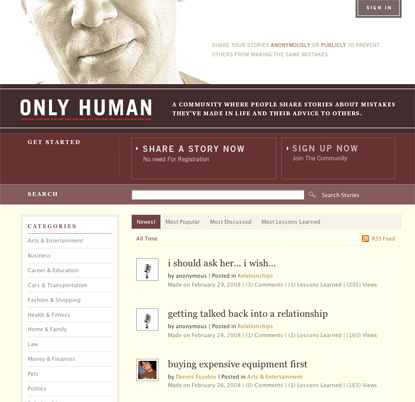 A cream and crimson color palette with tasteful typography sum up the design of Only Human. The concept of the site is much deeper, and the about page is quite concise:
Only Human is a community where people share stories about mistakes they've made in life and their advice to others. The premise is that its just as important to know what NOT to do, as what to do. Mistakes make the most compelling stories and provide the easiest advice to accept because of their ability to evoke empathy.
cream with your coffee?


While beige and tan have always been popular, cream is a color that hasn't received a lot of love, but is used to good effect here. Especially in contrast to the coffee-esque headlines. The interaction between the serif and sans typefaces is smooth and harmonic. In fact, the most interesting thing about the typography on Only Human is the lack of anything that stands out alone. Rather, the type is well thought out and contributes to the unity of other design elements.
borders and backgrounds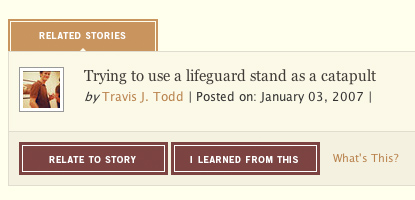 their shape implies the functionality of a button in many instances, and their behavior follows suit.
I really dig the interaction between the solid borders and strong background colors used throughout the site, not only the masthead. Not only are they visually interesting, but their shape implies the functionality of a button in many instances, and their behavior follows suit.
criticism

While the site as a whole is visually appealing, there are some details that could use a bit of polish. The issue that stands out the most to me is capitalization in the headlines. Given that stories are user submitted, it's hard to control what grammar will show up around the site. However, a simple CSS rule (text-transform: capitalize;) would help mask the errors, although the capitalization would still be imperfect. Such is a risk taken with user generated content.
Another issue that perhaps is more of a pet peeve than a mistake, is the hover effect on items in the left column navigation. The amount of indentation that occurs is somewhat jarring, where I, personally, would've preferred a change in background color or some other effect in combination with an underline for those who are color blind.
conclusion
Overall, the site is well put together and welcoming. I thoroughly enjoyed reading through some of the user posts, and am quite fond of the concept, and the design supports its goals. I'm curious what others think of the site though, so over to you!

Want more? Check out the archives for previous reviews, and don't forget to subscribe for future reviews, posted weekly.

03.10.2008 //