Kyle Meyer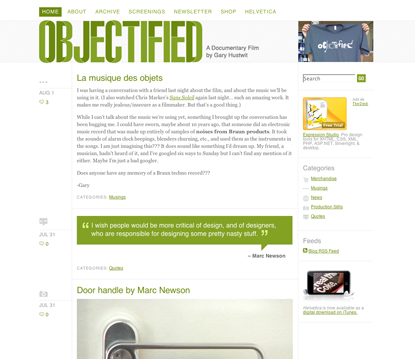 It's been a while since I clicked a link and let out an audible 'Wow.' The site for Gary Hustwit's forthcoming film, Objectified, broke that streak. The color, the balance, the playful interaction between the horizontal and vertical rules create a harmony that's just plain beautiful.
The site is essentially a blog, which is logical given that it's for updates for progress on the film. It follows your standard blog layout conventions pretty close to the letter, but it does have a few unique tidbits here and there that spark interest. One of these are the small icons to the left of each post that visualize the post's category. But what I really love is the overall interaction of the headline, rules, and these icons at the beginning of each post.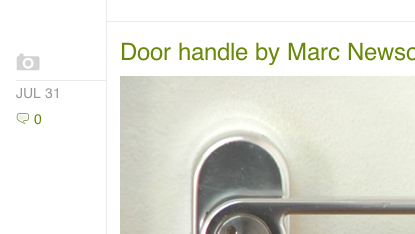 helvetica + georgia
Mixing serifs and sans-serifs seems to be a popular choice for many of the designs we feature here. And Objectified is no exception, there's a playful variance in the display of both typefaces. Sometimes all in lowercase, such as the headlines, or all in uppercase, such as the posting date. In particular I find the graphic work done in the logo quite intriguing, set in Helvetica Ultra Compressed.

The blockquotes are also done beautifully. Reversed out typography on the web isn't very common, and I love the green block's interaction with the aforementioned rules.

That's not to say the design is perfect – it has its faults. The 'categories' listing at the bottom of each post feels awkward at that default font size that everyone has an aversion to. Perhaps simply removing that listing would be appropriate, since the icons in the meta column do the job nicely, and this textual listing is somewhat redundant. From a structural perspective, the archives page is lacking somewhat in its usefulness as well, perhaps a different way of accessing older posts than by month would be more useful. But these are small quibbles in the overall scheme of the site, what do you think?

Want more? Check out the archives for previous reviews, and don't forget to subscribe for future reviews, posted weekly.

08.02.2008 //