Vivien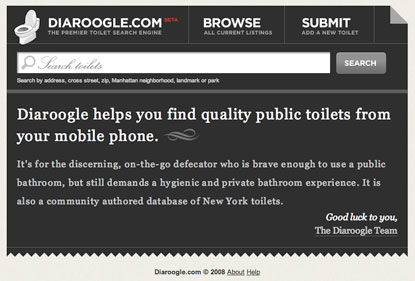 It's not everyday we come across an elegant site (with a well thought-out design, good eye for typography and an appealing colour scheme) that is not someone's portfolio site, design blog or a design company web site. Whenever I find such a site, I'm glad that issues of aesthetics concern not only designers. And the fact that the site in question is actually a Search Engine (though not your usual Google clone, but a "premier toilet search engine") adds to the hope that one day all sites on the Web will be not only user-friendly, but beautiful as well.
Appropriately titled Diaroogle, this human-powered toilet search engine was launched in the first week of August, but it's already generating a buzz on the Web. Some are bashing it as a disappointing application while others find it very promising.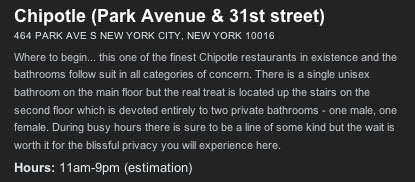 What makes this site different from other washroom search engines (yes, believe me, there are others) is that each submission is accompanied with the poster's personal experience and insider information which you won't find anywhere else. Some toilet descriptions on Diaroogle are nothing short of mini-odes: some praise, others criticize while managing to pique your curiosity into try how bad the place is in real. Often they will give you a complete run down of what can be expected at that particular location, including the quality of food served, or the weird behaviour of people working there. You owe it to yourself to check out some of the listings there. If not because of the nature calls, then at least to get a few laughs.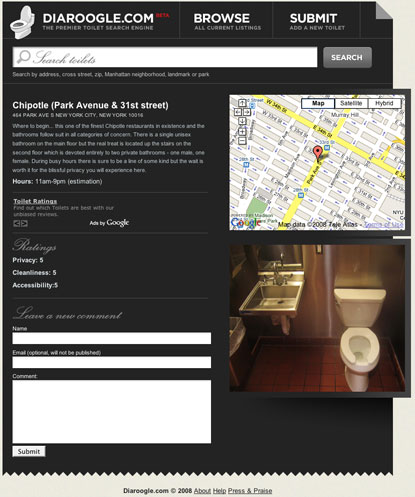 However, I'm not here to talk about the technical side of Diaroogle, nor about the practicality of its application. I'd like to sing a bit of praise to its creators (designer Kevin Burg and developer Evan Cooney) for designing such a pleasingly looking site for not so pleasant calls of nature.
singing greys

The first thing that catches the eye is a gorgeous colour palette with dark and light greys and pinches of red that give the site a surprisingly classy look. It's nice to see that despite shaping the site in a form of a toilet paper roll, (a paper fold in the top corner and a zigzag border in the footer) Kevin didn't choose a brown & white colour scheme. The contrast between the foreground and background colours on the homepage is just perfect, though the small font-size of descriptions in the listings make them a bit harder to read.
the power of gotham
The choice of typography on this site could have not been more appropriate: the masculinity of the type Gotham (that was elected to represent Barack Obama's Change campaign) appeals to male users of the site, while the femininity of Kuenstler Script Bold strikes a chord with its female users.

It's interesting to note that Georgia was chosen to represent the promotional text on the site, (we can see it on the homepage and in the footer of the About and Press pages) while the rest of the text is handled with Arial.
There are also a few headings with image replacement techniques here and there, but they're executed so tastefully that I don't mind seeing them on the site.
criticisms
Even though I really like the use of Kuenstler Script Bold for the text in the search bar, unfortunately the CSS technique implemented by Kevin doesn't work in Internet Explorer, so IE users miss out on that interesting feature.
Currently the CSS code that displays the background image in the search field is the following:

#search form input[type="text"] {
background:#FFFFFF url(/images/search_bg.gif) no-repeat scroll left top;
...
width:600px;
}
IE6 doesn't support input[type="text"] in CSS, so all we see is a short regular HTML text field instead. IE7 does display the background image, however after focusing and clicking on the search field to enter the keywords, the background image is replaced with the one without "Search toilets", in IE7 it doesn't disappear, so the search keywords appear on a busy text background:

#search form input[type="text"]:focus {
background:#FFFFFF url(/images/search_bg_focus.gif) no-repeat scroll left top;
}
This can be solved either with the use of CSS classes, rather than selectors or with JavaScript.

Other than this, the small font-size in the listings and a wish to see the links to the sites in the Press & Praise page, I don't have any more critical remarks about Diaroogle. It is one beautiful site for a rather peculiar project. What do you think?

Want more? Check out the archives for previous reviews, and don't forget to subscribe for future reviews, posted weekly.

08.27.2008 //