Ryan Evans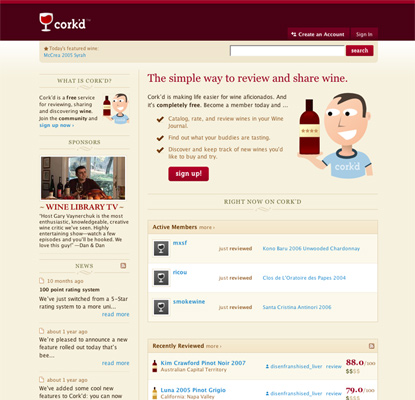 Cork'd came to life in May 2005, and since then it has been the place to be for both wine aficionados and newcomers. Cork'd's goal is to bring wine out of the snobby wine cellars of the elite and let everyday people share the wines they enjoy. Users are encouraged to write reviews on the wines they partake, make a shopping list from wines you find, touch base with drinking buddies and take their recommendations. Cork'd was designed and produced by Dan Cederholm and Dan Benjamin, though it is now under different management.
remove the snobbery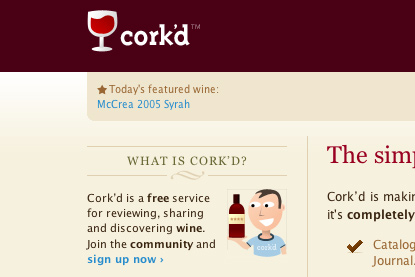 The first thing that catches your eye is the overall playfulness of the typography on the site, blending both serif and sans-serif fonts in a way that would make any vintner proud. The second eye catcher is the great logo which is set in Triplex. The effect this creates reenforces the overall goal of the site, which was "to remove the snobbery often associated with the world of wine". I think the choice of a thicker serif font with a touch of playfulness has set a perfect stage for the overall look and feel of the site.
harmony exemplified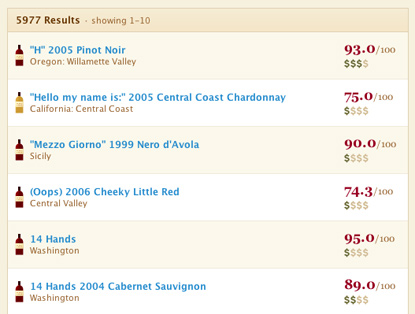 Delving futher, the choice of colors compliment each other as well as the other elements on the page, from the icons throughout the site to way that the user uses the nav. Using multiple font families on one site can be hard enough without adding color into the picture. Color is used to draw you in but at the same time, not fight for your attention. With the use of a tan background the shades of the red type really help your eyes navigate to the important items. The font color that really caught my eye was the shade of light blue used for links. At first I was thrown aback by its use, but realized how it helps break up the reds and browns on the page.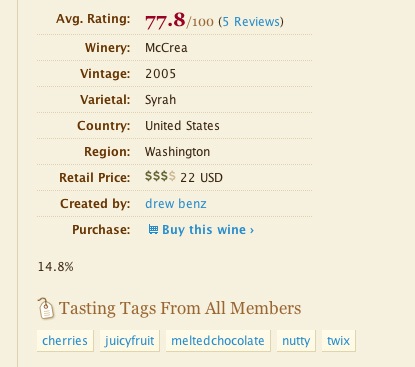 The headlines and body copy really compliment each other; with the body copy Lucida Grande and the headlines set in Georgia. From the large red h2 to the olive green h4, the headline colors are definitely eye-catching. The use of font weights is another touch that most people will overlook, but I know the readers of this site will appreciate. These are the little touches that set this site apart both in design and usability. I can't tell you how refreshing it is to see the way the fonts help usability instead of hindering it, all while making the site look great.
conclusion
Let's face it people, this review could have written itself with just a link to the site. Dan Cederholm really brought this site to life with his choice of colors, fonts and attention to detail. And we are all witness to the growing lack of these wonderful traits in many sites today. Cork'd overlooks nothing. It is a great site to use and let's face it, if there is ever an excuse to be drinking while playing around online, than you can count me in.

Join me for a drink, won't you?

Want more? Check out the archives for previous reviews, and don't forget to subscribe for future reviews, posted weekly.

04.22.2008 //