Kyle Meyer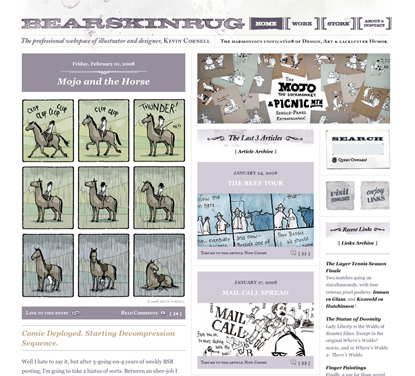 A bit of hand drawn type, a bit of illustration, and a hell-of-a-lot of Georgia make up Keven Cornell's Bearskinrug. While the illustrations may steal the show, the unsung hero is the supplemental type treatments that surround them. But even better yet, the typography within the illustrations themselves are wonderful things unto themselves.
penmanship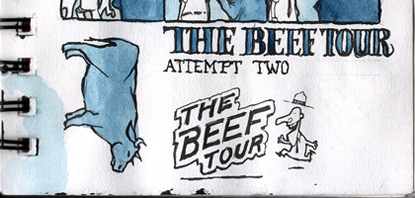 I wish my handwriting was as legible as most illustrators'. But in Kevin's case, there is some real typographical magic happening in a few of his illustrations. One of the best things about hand written type is that most of the time it isn't modeled after a particular typeface, so in reality, you're witnessing the birth and death of a typeface in a single piece of work. A great way to find inspiration.
gray, beige, and georgia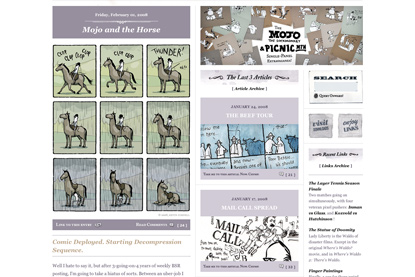 Bearskinrug has an exemplary level of attention to hierarchy, beyond the basics of headline size and color, there is a definite association within the background color of elements, and it works so well you likely wouldn't have noticed it. The home page begins with the darkest shade of gray behind the most recent article's headline, with a progressively lighter shade of gray as you move to the lesser items on the right hand side of the page. A subtle technique, but a great one that isn't seen too often.
There isn't a variant of Georgia left untouched around the site, and it's a great example of using a singletypeface to create a sense of unity. It also shows just how far a single well-designed typeface can go when called upon. As far as color goes, things are pretty tame: grays and a bit of beige, which is great for allowing the user to focus on an illustration when it is the focal point of the page.
my, what a beautiful form you have
Oddly, a stand out area of the design is the comment form, are your forms this cool?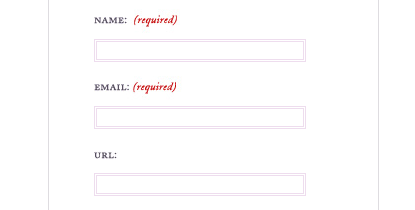 criticism
To be honest, this is one of those sites that I have a hard time finding something to complain about, but there are a few small things that irk me a bit. The main one of these is the use of graphic text when a plain text version would've been the better choice. One example being the nifty comment form above, which could have been accomplished with only CSS. This primarily occurs on the previous/next based navigation between articles, where I presume this decision was made in order to have the glow effect on hover — CSS can render small-caps, and the glow as a feedback mechanism is a bit weak.
On the about page, you'll notice that the second column of content is of the same size as the main column. There are a few parts of this page where things seem out of place, including some of the headlines further down the page being poorly sized. For the rest of the site, this proportion seems correct but it seems to have been missed here.
conclusion
All that aside, Bearskinrug is an excellent site, with an excellent design. If you're looking for inspiration, there's plenty to be had from not only the site itself, but the illustrative work within. Kevin is also one of the main illustrators for The Superest, which is also a great place to view some hand drawn typography goodness.

Want more? Check out the archives for previous reviews, and don't forget to subscribe for future reviews, posted weekly.

02.18.2008 //