Kyle Meyer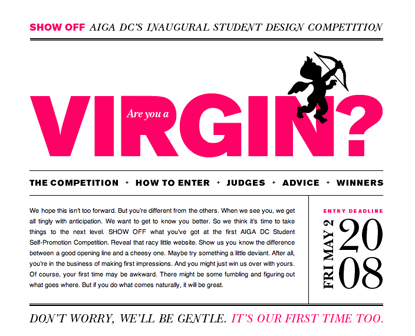 When I first stumbled across this site last evening I immediately loved it, and it's been a while since I've felt that way about a website design. AIGA DC's 'Are you a virgin?' site is littered with great attention to detail, subtle flash and javascript effects, and some excellent copy. Granted there's a few things that could be improved, but overall the site accomplishes what it sets out to do — with style.
classy, yet bold

There's no denying that the concept of the site sets some expectations for a few good puns. Yet somehow, the design maintains a high level of class while remaining bold and out there. The contrast between the black and pink makes a statement and sets a tone. The bold headlines are excellent, and the illustrative work is fun as well.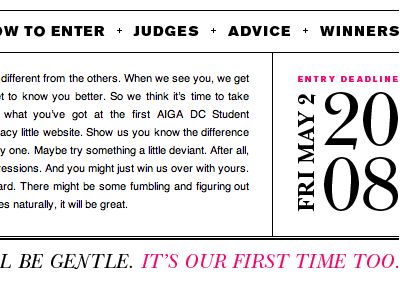 Like many sites we've reviewed, there is an excellent balance and harmony between both serif and sans serif typefaces. There are a few instances of Helvetica that were hard to read or hard to click on due to their small size, it wouldn't hurt to bump it up a bit bigger.
scannable content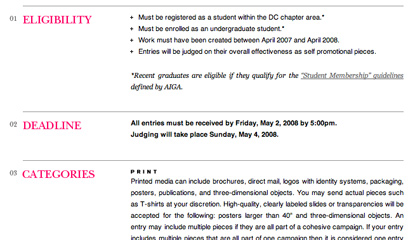 One thing that I absolutely love is the list style of most of the content, the numbering is correctly placed in gutter, and the headlines are both easy to scan due to the layout and make for excellent eye candy with the simple addition of some oblique articles. The horizontal rules provide a clear break between sections that solve the issue of simply reading the content column as if it was an article jumping from topic to topic.
flash degradation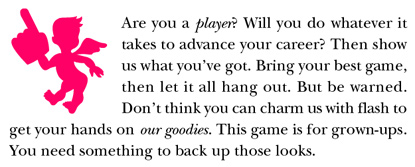 I was happy to see that the flash pieces are being placed by swfObject, so if a user does not have javascript or Flash enabled, they'll see a static image. This is a great technique that is well executed to create a more accessible site not only to humans, but for SEO purposes as well.
conclusion
Overall, it's a thoroughly enjoyable microsite for a competition, and if you're in a position to enter, could make for some good publicity within the AIGA organization. How do you fine folks feel about the design?

Want more? Check out the archives for previous reviews, and don't forget to subscribe for future reviews, posted weekly.

03.25.2008 //