Kyle Meyer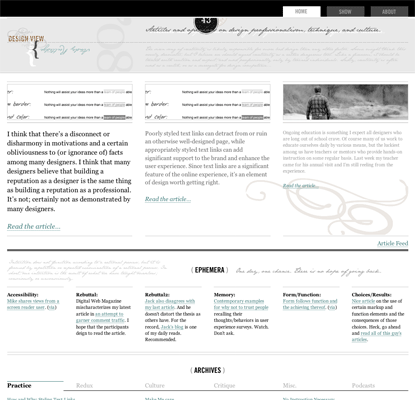 Andy Rutledge has been an inspiration for me ever since I focused my attention on web standards. Over that time, I've seen him do more than a couple redesigns, and the latest incarnation is one of the best. One of the things that I admire most about his redesigns is the dutiful attention to keeping all the content you're used to seeing, adding and removing little, even though the visual updates range from subtle to extreme.
type as texture


An underused technique, the small blocks of script help create an aesthetic feel, even though their verbiage is somewhat erroneous. In tandem with other graphic elements, this creates the overall mood for the site, both professional and sharp. The icing on the cake is that this mirrors Andy's writing style and topic choice. Reading the same content in Trebuchet just wouldn't be the same.
left to right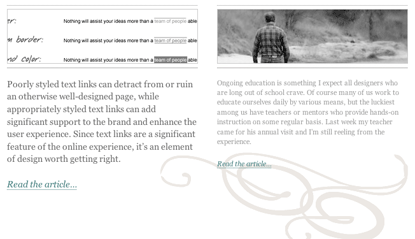 The main page boasts the newest three articles in prime real estate. As you move from left to right, the content gets smaller as it becomes older. I'm a bit torn on this, because I love the visual feedback of age, but feel that it creates some awkward visual balance issues.
…visual feedback of age
break it up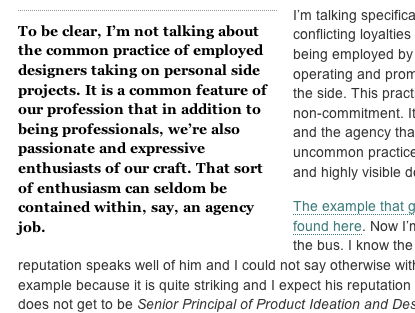 Many of us fall into the trap of writing lengthy articles or blog posts, and many times they don't invite much for imagery. Andy is no exception but makes excellent use of summaries, pull-quotes, and headlines to create visual interest within his writings. The technique to do so is pretty simple, and improves the scanning capacity of content as well.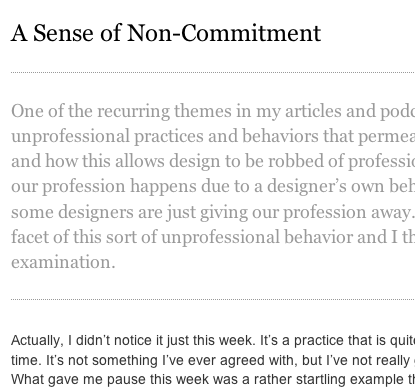 criticism
It's hard to criticize much on the site, but there are a few sections that could use a bit more attention.
The footer seems ripe for a bit more character, as the grey background color tends to emphasize it from the rest of the lower content, and I'd love to see more of the elements from the masthead used here.

The other thing that sticks out to me is the type choice within the graphic examples used in some points. While it's aiming to feel hand written it doesn't quite jive with the rest of the design. Perhaps sticking to Georgia or Helvetica here would produce a more consistent feel.
conclusion
Minor nit picky things aside, Andy's latest redesign has some great typographic techniques to examine, I'm also curious to see how he'll redesign the page for his podcast, The DesignView Show, which I highly recommend. But now I've rambled on enough, over to you.

Want more? Check out the archives for previous reviews, and don't forget to subscribe for future reviews, posted weekly.

03.31.2008 //