Joey Pfeifer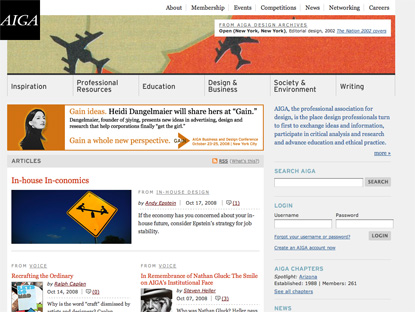 The best websites are both functional and beautiful at the same time – and AIGA.org is a prime example of both of these traits. Known as the "professional association for design", AIGA called upon Happy Cog Studios, specifically Jason Santa Maria, to redesign their website in early 2007.
AIGA.org includes an eclectic variety of typefaces, colors, and styles, but before I talk about the site's typography, I'd like to point out some major features that really bring the site together.
First, and foremost, is the banner located near the top of every page on the site, which displays a random image from the AIGA Design Archives. This is a brilliant idea for both functionality and aesthetics. First, it helps separate the two different menus (one above and one below), and it literally makes every single page unique to the visitor.

Second is the navigation and the home page presentation. When you first visit AIGA.org, you're presented with two menus: the first consisting of specific links that most visitors want to see on every page (About and News come to mind). The second menu, located below the Design Archives banner, consists of the site's six main sections. These menu items are important in holding the site together through the apparent 6-column grid.
Located on the sidebar of the home page is a short but insightful description of the AIGA, with a link to finding out more about the organization. This in addition to the usable navigation makes the homepage extremely easy to digest.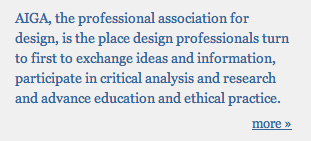 Now on to the typography: Three main fonts are used throughout the site. Interstate (which is used for the navigation and also for headings through the use of sIFR); Georgia, used mainly for headlines, bylines, and body text; and Verdana, which is used throughout the site to separate the important content from the less important.

Along with this wide variety of typefaces is a wide variety of type styles and colors. On the homepage I counted at least seven different types of combinations of type styles and at least five different colors. I'm usually one to criticize designs that utilize so many different styles and colors in one layout, but for some reason this is the exact reason why I love this website so much. It's spontaneous, random and fun, but at the same time organized.

Some have argued that the AIGA website is too hectic, but I disagree. The website is eccentric in its use of typography, styles, and colors; and what better representation of an organization that represents so many different areas of the design spectrum.

Want more? Check out the archives for previous reviews, and don't forget to subscribe for future reviews, posted weekly.

10.20.2008 //