Rett Martin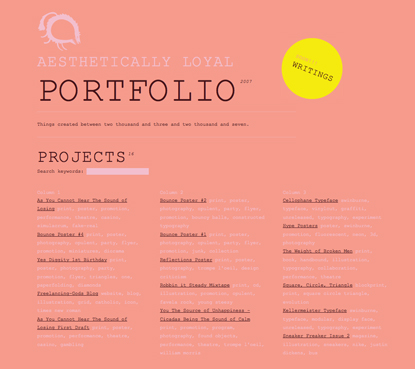 Armed with a salmon pink color palette and loads of Courier New, Anthony Kolber's graphic design portfolio is certainly one of a kind. If you make it past the initial shock and take the time to squint here and there, you'll find an amazing body of work housed in a site that isn't afraid to take some risks.
the airing of grievances

Let's begin as they do in Festivus with the airing of grievances. The homepage has some issues, biggest of all being readability. The column headings, project keywords, and other light pink text are lost due to lack of contrast. This is most likely an intentional design choice supporting the thought that "if everything stands out, nothing stands out." But the result is text that is so hard to read it may as well not be there at all.
Another glowing problem is the big yellow circle reminding us that writings are soon to come. This site succeeds as a simple portfolio showcase. But this overly optimistic sun is constantly calling our attention away from the work just to make what very well could be an empty promise.
lots and lots of courier new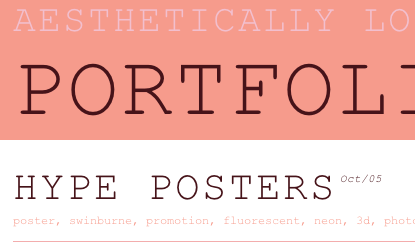 I feel better now, so let's shift modes and discuss some of the really cool aspects of the site. Number one, Anthony has designed an entire site using Courier New. And I'll be the first to express my surprise when I say that this monospaced font looks great at large sizes set in uppercase. Sure there are some weird kerning issues, especially noticeable to the right of the "O," but the fact that it's all HTML text, and accessible, is enough for me to let it slide.
let there be white!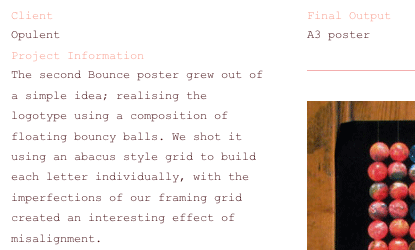 There's a huge sigh of relief when you click on a project and see a nice large white block containing the details. The same Courier type that we saw on the homepage is now enhanced with better contrast and great big colorful pictures of killer work.
Seeing just one project is enough to make any visitor stick around and view them all.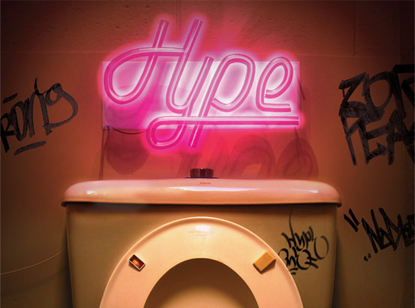 Seeing just one project is enough to make any visitor stick around and view them all. Fortunately, Anthony has spent time on some of the finer details to make the experience quite effortless. So easy, but so often forgotten, the visited link state (in this case a very clear strikethrough) reminds us of where we've been and the small text superscripted to the right of the "PORTFOLIO" heading now says "back."
there's nothing worse than being forgettable
I'm excited to hear the forthcoming discussion as I'm sure there will be some strong opinions on this site. One thing that I don't think anyone will argue with is that Aesthetically Loyal is memorable. It's the pink site that uses courier, and it's full of amazing work.

Want more? Check out the archives for previous reviews, and don't forget to subscribe for future reviews, posted weekly.

02.24.2008 //